Pressure switch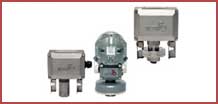 Beta pressure detectors consist of a high-quality self-centering push rod and a diaphragm. A slight movement of the pusher transfers pressure from the diaphragm to the shut-off mechanism without intermediate elements and is fully protected from high overloads. The pusher is isolated from the working product by a membrane and a fixed o-ring located in the pressure supply cavity. Only these three components are in direct contact with the environment and can be made from a wide range of materials.
A pressure switch or pressostat is a special Electromechanical automation system that has a contact system that changes its position when the maximum controlled pressure value is reached. Pressure switches are used for:
hydraulic systems (maintaining the oil level in the printing press, crane, etc.);
boilers (in the heating system to maintain the water or steam level in the required pressure range);
pumps (for monitoring their operation);
marine sector (oil pressure monitoring in water-oil separators and diesel engines for oil pressure monitoring);
industrial applications (vacuum systems, compressors, cooling systems, filter monitoring and water treatment).
Today it is possible to buy a pressure switch of any purpose and cost, but if you want to buy a really reliable and high-quality pressure switch from well — known manufacturers at the best price-it is better to do it in our company. You will definitely be satisfied with your purchase and our service!
Main features Security:
- reliable, secure connection by means of a terminal block
- ground terminal as standard
- IP66 housing
-strong cover with gasket and pressure bolts
The reliability:
- high protection against exceeding the permissible pressure
- spring-loaded pusher provides excellent resistance to vibration and shock
-no setpoint offset due to deformation of the pulse lines
Certification:
ATEX: KEMA CE 0344 и PED: TÜV CERT. CE 0035.
Saving:
- the wide range of materials used in contact with the environment virtually eliminates the use of expensive materials.
This category does not contain any products.