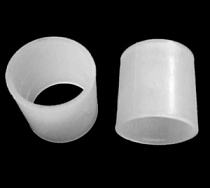 Raschig Ring
Raschig Rings are used to fill the working volume of the column and other installations. The purpose of the application is to increase the intensity of heat transfer and mass transfer processes in chemical, petrochemical, and oil refining equipment. R-Ring is also used in sewage and water supply systems, in the production of ammonia and mineral fertilizers. Raschig rings are irregular attachments. Their surface area is 30% larger than in cylinders and balls. The rings can be made of carbon steel, stainless steel, polypropylene, PVC, PVDF, ceramic, etc. Acid-resistant ceramic packaging material is used for filling columns and other mass transfer equipment that operates at a temperature of no more than 120 degrees Celsius in an acidic environment.
Application Range:
ethylene extraction columns;
mass-tranfer columns separation devices;
carbon dioxide and hydrogen sulphide absorbers and flash tower;
liquid extractors;
carbon monoxide converters;
dimethyl terephthalate running column;
NH3 extraction devices;
petrochemical and medical equipment.