---
25% denatonium benzoate in ethylene-glycol solution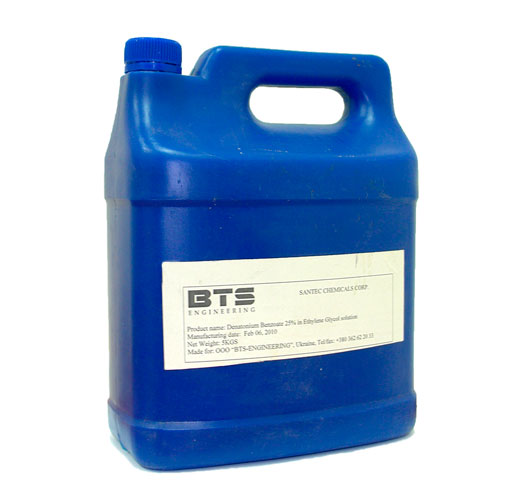 Application:
25% denatonium benzoate is used as a denaturant in alcohol, cosmetics and pharmaceutical industry.
Specification:
Test


Specification

Results

Appearance


Colorless or yellowish liquid

Colorless or yellowish liquid

Assay (denatonium benzoate)

24.5-26.5%

25,1%

pH

6.8-7.8

7.53

Chloride

500 ppm max

300 ppm

Packing: 5 kg drums.
---
History of the product:
Macfarlan Smith found denatonium benzoate in 1958, and registered it in the same year in Great Britain, Canada and in the USA under the trademark Bitrex.
Laboratory research showed that this product featured extremely bitter taste. When mixing denatonium benzoate with water in the proportion 30:1 000 000, one obtained the product which could not be eaten because of its extremely bitter taste.
Nowadays there is no other bitterer product found in the world.
In early 1960s Bitrex got its official approval in Great Britain and in the USA as denaturant, after that it was approved in more than 40 countries.
Denaturation of industrial alcohol is aimed at preventing of alcohol use in food industry, which allows releasing industrial alcohol from excise duty rate. Bitter synthetical product denatinium is used as so called deterrent for preventing accidental drinking of toxic substances by children or animals. The product features solid crystalline structure, white colour, no odor.
Chemical name is ammonium, benzyl, diethyl ((2.6-xylyl carbomoyl) methyl)-benzoate). Molecular mass is 446.58 g/mol.