---
Valve trays are widely used in the petrochemical and alcohol industry, with column diameters from 0.5 to 10.2 m, with an inter-valve distance from 170 to 1100 mm, a design - from single-flow to six-flow and a quantity-from several pieces to more than 200. The ADV ® plate is also used in vacuum and high-pressure systems. The main advantages of these plates are the ability to provide efficient mass transfer in a large range of workloads, simple design, low metal consumption and low cost. High-performance valve plates of a new type, developed on the basis of traditional plates and are characterized by optimization of the design of the valve and the plate as a whole, increased productivity and efficiency, as well as increased operational flexibility.
A new high efficiency type of valve trays design is based on traditional trays. It features improved design of a valve and a tray as a whole, increased capacity, efficiency and operation flexibility.
Main features:
Non-revolving valve with top canopies
"Quick-Connect" active tray joints
Inlet bubble promoter
New-design of downcomer
Main advantages:
40% (or more) higher capacity
10-20% more efficiency
>10% lower pressure drop
30-50% greater flexibility
Minimum modification in reconstruction
Easy to install and maintain

---
Application:
Refining and Petrochemical
Crude oil distillation
FCCU (Fluid catalytic cracking unit)
Recovery and separation of light hydrocarbons
Water treatment
Delayed coking
Desulfurization
Sulfur recovery
Reformation and separation of aromatic residue
Ethylene unit
Styrene unit
Phthalic anhydride
MTBE (Methyl Tertiary Butyl Ethyl) unit
Butadiene unit
Isoprene unit
Dehydrogenation of light hydrocarbon
Coal Chemical and Other Chemicals
Coal gasification
Coal gasification
Methanol unit
Water treatment
Methanol-to-Olefin (MTO) distillation
Acetic acid and ester unit
PTA plant
Acrylonitrile plant
Propylene oxide
Polysilicon plant
BDO unit
MEK unit
Ethylene glycol unit
Natural gas De-H2S and De-CO2
Polyester plant
Fine chemicals
Environmental Protection
Solvent recovery
Waste water treatment
Off gas recovery and treatment
---
1. Non-revolving Valve with Top Protrusions
Top protrusions make vapour dispersion more uniform and fine, which improves efficiency. The anti-spin valve hole prevents valve rotating like V1 valve, and valve falling from the hole, which occurs when the valve legs become overly worn.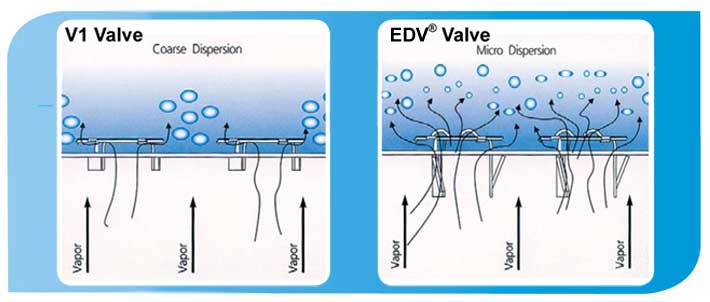 2."Quick-Connect" Active Tray Joint
The patented "Quick-Connect" active tray joint allows easy on-site installation and eliminates inactive tray zones typical for all other trays. This creates a more "effective active zone" and eliminates liquid bypass.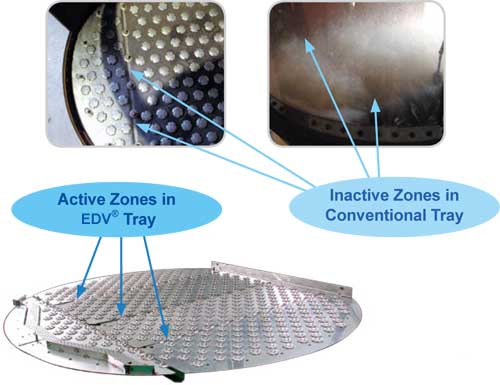 3.Inlet Bubble Promoter
The ADV® tray has a unique inlet bubble promoter to allow froth initiation near the inlet area of the active panels. The froth initiation helps to minimize or eliminate liquid gradient on the tray and promotes uniform froth distribution across the entire tray active area. This results in higher tray capacity and operating flexibility.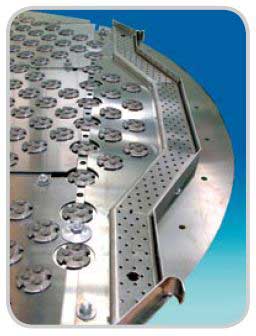 4. New-Design Downcomer
New-design downcomer with directional flow promotion helps to eliminate stagnant liquid pools on the tray and promotes uniform liquid penetration and froth density across the entire bubbling area. Directional flow promotion prevents fouling material settling on the tray deck and extends the column run time.

Heat Patterns
ADV® Tray List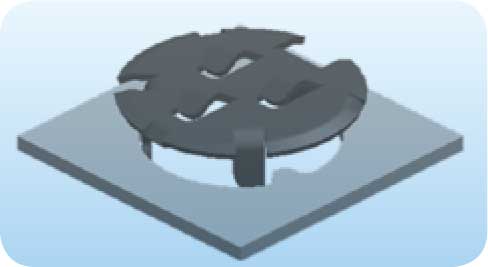 1. ADV® Valve Tray (ADV®)
Floating round valve with top protrusions for fine dispersion
High efficiency, capacity, and operating flexibility
For wider operating flexibility, heavy ADV® valve (ADV®-H ) can be used together with ADV®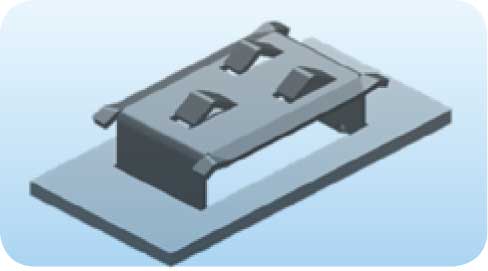 2. ADV® Rectangular Valve Tray (ADV®-R)
Floating round valve with top protrusions for fine dispersion
Directional ADV®-R valve (ADV®-RD) can be used in conjunction with ADV®-R for directional flow promotion using a directional valve leg
For more flexible operation, heavy ADV®-R valve (ADV®-RH ) can be used together with ADV®-R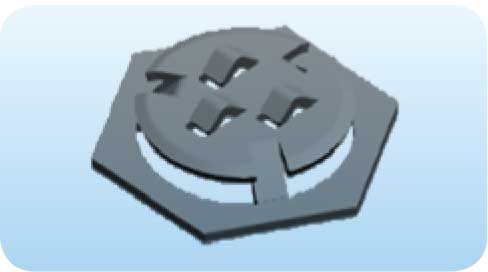 3. ADV® Fixed Valve Tray (ADV®-F)
Floating round valve with top protrusions for fine dispersion
More flexible and efficient than a conventional sieve tray
Suitable for fouling and coking systems
Non-top (ADV®-F0) or one-top (ADV®-F1) protrusion valve is available for different operational needs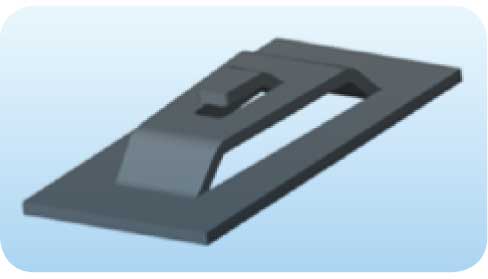 4. ADV® Rectangular Fixed Valve Tray (ADV®-FR)
Fixed valve tray with three top canopies for fine dispersion
More flexible and efficient than a conventional sieve tray
Suitable for fouling and coking system
Single top protrusion valve (ADV®-FR1) is available for different operational needs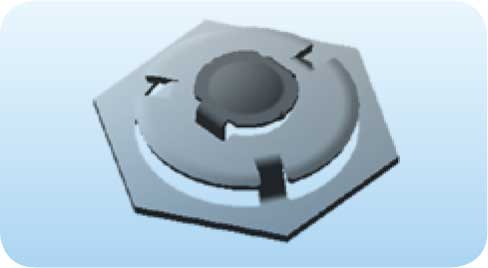 5. ADV® Combinatorial Valve Tray (ADV®-C)
Combinatorial valve with a fixed round valve as the base valve and a floating round valve as the top valve
Top valves close in the case of low vapor loading. This allows the tray operate more flexibly
Combines the advantages of a fixed valve tray and a floating valve tray. It is flexible and has high mass-transfer efficiency
Suitable for fouling and coking system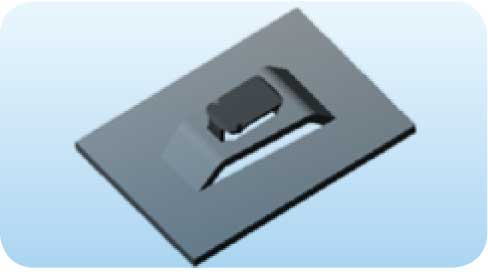 6. ADV® Rectangular Combinatorial Valve Tray (ADV®-CR)
Combinatorial valve with a fixed round valve as the base valve and a floating round valve as the top valve
Top valves close in the case of low vapor loading. This allows the tray operate more flexibly
Combines the advantages of a fixed valve tray and a floating valve tray. It is flexible and has high mass-transfer efficiency
Suitable for fouling and coking system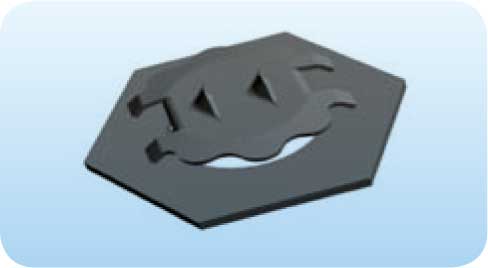 7. Scalloped ADV® Valve Tray (ADV®-S)
Floating round valve with scalloped lace and top canopies
Vapor jets from side scalloped lace and top canopies for fine dispersion and to reduce pressure drop
The valve hole of ADV®-S is smaller than that of a conventional valve. This makes ADV®-S especially suitable for low-vapor scenarios where high efficiency is required
With ADV®-SH round heavy valve, a Scalloped ADV® valve tray operates higher capacity and flexibility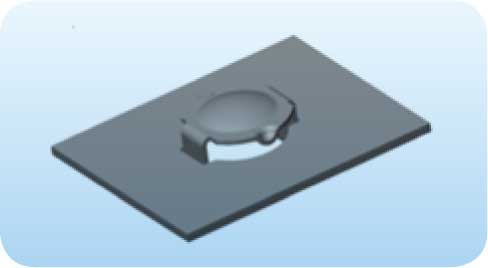 8. ADV® Mini Valve Tray (ADV®-M)
Floating mini round valve
The Valve hole is smaller than that of an ADV®-S valve
Adaptable to scenarios where there is very low vapor and high efficiency is required
9. ADV® Mini Rectangular Valve Tray (ADV®-MR)
Floating Mini rectangular valve
The valve hole is smaller than that of a conventional valve
Adaptable to scenarios where there is very low vapor and high efficiency is required
---
---