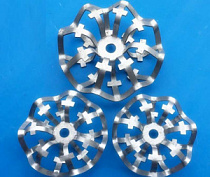 Teller Ring
The metal Teller Ring is designed by e. J. Teller in 1965, which is why it got its name. The metal ring of Telleret Roset looks like an ellipse. Due to the large volume of storage for liquid fractions and voids in the nozzle, the contact of gas with liquid increases, increases the efficiency of exchange. The packing has a large void volume, low pressure loss, low weight.
Metal Tellerette Rosette Ring:
low pressure drop and high efficiency;
large effective interfacial area;
good resistance.
Application of Metal Tellerette Rosette Ring: It is mainly used in washing towers, cooling towers, desulphurization towers, deaerator, drying towers and de-carbon towers,as well as facilities for sewage treatment and stofneerslag.