Spiral heat exchanger – types of heat exchangers for use in technological processes in the production of alcohol, bioethanol, recuperative spiral heat exchangers for heat stations, organization of cold in the recycling water supply of enterprises. Our company offers two types of heat exchangers – collapsible, when the covers on the spiral side can be opened for inspection, flushing. Welded spiral heat exchangers – when the sheets are welded. Combined spiral heat exchangers-when one side of the heat exchanger is collapsible, the cover of the spiral heat exchanger is removed, and the other side is welded.
Welded spiral heat exchangers have an advantage over collapsible ones in that they can withstand higher fluid pressure and have more structural rigidity. Spiral heat exchangers do not need to be demountable at all technological cycles, since the organization of technological flushing with the use of caustic and cleaning solutions does not require their disassembly.
Our engineers can design a SIP sink for process equipment according to the customer's requirements.
---
A spiral heat exchanger is a device for transferring heat energy from one heat carrier to another. As a heat carrier, gaseous, liquid or vapor-liquid media can be used.
The company "BTS-ENGINEERING" is engaged in projecting and calculating spiral heat exchangers for technological processes.
There are two types of spiral heat exchangers:
collapsible heat exchangers;
welded heat exchangers.
Welded Heat Exchangers
Welded heat exchangers are compact heat exchangers for application at extremely high temperature, pressure of units, parameters of which do not allow seal using. They feature high efficiency, small dimensions and do not require much maintenance.
Welded heat exchangers are manufactured of different materials. Design quality of welded heat exchangers complies with the highest requirements.
Spiral Heat Exchangers
---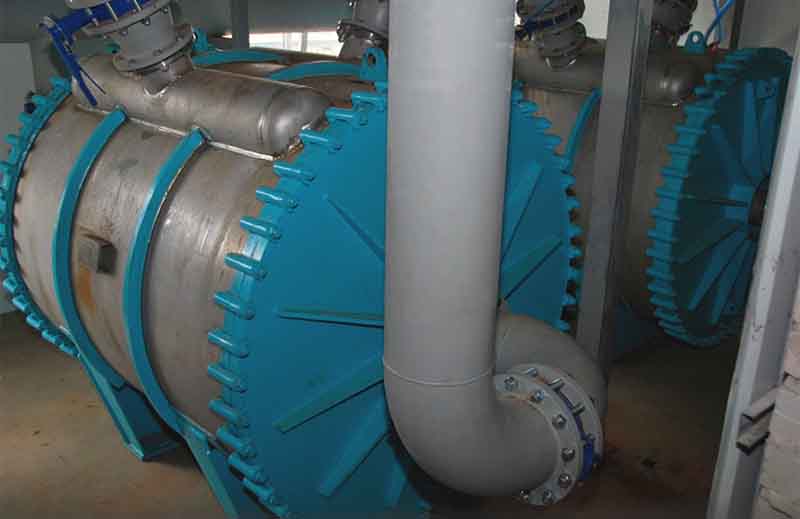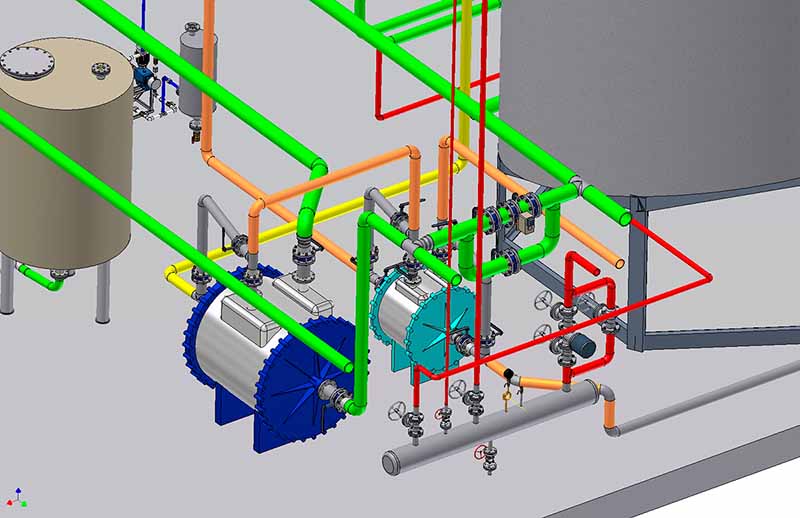 ---
Technical information
---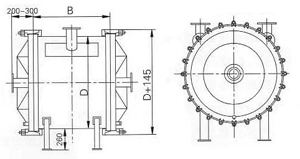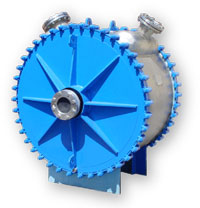 Model of heat exchanger
S, m2
Width, B mm
Channel height, b mm
Diameter, D mm
Capacity, qv m3/h at flow speed
Flange diameter, DN1 mm
Flange diameter, DN2 mm
Weight, kg
1.0 m/s
1.5 m/s
BTS0.6-20-610-10/10
20
610
10/10
828
21.2
31.9
65/65
65/65
1210
BTS0.6-20-750-10/10
750
10/10
760
26.3
39.4
65/65
65/65
1116
BTS0.6-30-610-14/14
30
610
14/14
1108
29.3
44.0
65/65
80/80
1840
BTS0.6-30-750-12/12
750
12/12
958
31.4
47.1
65/65
80/80
1660
BTS0.6-40-750-14/14
40
750
14/14
1148
36.4
54.6
65/65
80/80
2190
BTS0.6-40-1220-16/16
1220
16/16
976
68.4
102.6
100/100
125/125
2030
BTS0.6-50-750-16/16
50
750
16/16
1340
41.4
62.0
80/80
100/100
2830
BTS0.6-50-1220-18/18
1220
18/18
1125
76.7
115.1
100/100
125/125
2560
BTS0.6-60-1220-10/10
60
1220
10/10
980
43.2
64.8
80/80
100/100
2530
BTS0.6-60-1220-15/15
1220
15/15
1136
64.3
96.4
100/100
125/125
2820
BTS0.6-60-1220-24/24
1220
24/24
1370
101.3
151.9
125/125
150/150
3380
BTS0.6-80-1220-14/14
80
1220
14/14
1262
60.1
90.1
100/100
125/125
3550
BTS0.6-80-1220-32/32
1220
32/32
1780
133.2
199.8
150/150
200/200
4880
BTS0.6-80-1220-22/22
1220
22/22
1517
93.1
139.7
125/125
150/150
4220
BTS0.6-100-1220-12/12
100
1220
12/12
1320
51.7
77.5
80/80
100/100
4170
BTS0.6-100-1220-20/20
1220
20/20
1620
85.0
127.4
100/100
125/125
4930
BTS0.6-100-1220-26/26
1220
26/26
1808
109.3
164.0
125/125
150/150
5450
BTS0.6-120-1220-16/16
120
1220
16/16
1610
68.4
102.6
100/100
125/125
5370
BTS0.6-120-1220-28/28
1220
28/28
2032
117.3
176.0
125/125
150/150
6560
BTS0.6-120-1500-12/12
1500
12/12
1305
63.8
95.6
100/100
125/125
6700
BTS0.6-140-1220-30/30
140
1220
30/30
2258
129.6
194.4
125/125
150/150
7700
BTS0.6-140-1500-13/13
1500
13/13
1444
69.0
103.5
100/100
125/125
5480
BTS0.6-140-1500-18/18
1500
18/18
1723
105.1
157.7
125/125
150/150
6340
BTS0.6-160-1500-14/14
160
1500
14/14
1615
74.2
111.3
100/100
125/125
6480
BTS0.6-160-1500-17/17
1500
17/17
1747
89.7
134.6
125/125
150/150
6870
BTS0.6-160-1500-20/20
1500
20/20
2050
135.5
203.3
125/125
150/150
7800
BTS0.6-180-1500-15/15
180
1500
15/15
1724
79.4
119.1
100/100
125/125
7280
BTS0.6-180-1500-22/22
1500
22/22
2020
115.3
173.0
125/125
150/150
8190
BTS0.6-180-1500-25/25
1500
25/25
2136
130.5
195.8
125/125
200/200
8500
BTS0.6-200-1500-16/16
200
1500
16/16
1862
84.6
126.8
100/100
125/125
8140
BTS0.6-200-1500-24/24
1500
24/24
2206
125.5
188.2
125/125
150/150
9100
BTS0.6-200-1500-30/30
1500
30/30
2430
155.5
233.3
150/150
200/200
9900
BTS0.6-220-1500-18/18
220
1500
18/18
2040
94.9
142.3
125/125
150/150
9130
BTS0.6-220-1500-28/28
1500
28/28
2460
145.6
218.3
150/150
200/200
10500
BTS0.6-220-1500-32/32
1500
32/32
2600
165.4
248.1
150/150
200/200
11000