---
Liquid filtration on the basis of membrane technology
Membranes are made of the following ceramic mixture:
aluminum oxide – Al2O3,
titanium oxide - Ti02,
zink oxide - ZrO2.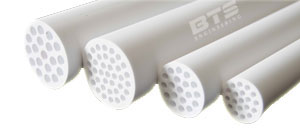 Ceramic membranes allow physical separation of mixtures of components without using additives. Membranes feature high thermal stability. Due to this fact there is no need in decreasing production process temperature.
More detailed information about ceramic filters for treatment, separation and clarification of water, beer, milk, wine, other liquids and suspensions is available upon your request at: [email protected].
Types of Ceramic Membranes
Ceramic membranes are used for different types of filtration depending on mean pore size.
MIKROFILTRATION CERAMIC MEMBRANE (BTS-М, MF). Pore size ranging from 50нм up to 10000nm (for industrial filtration: 1200nm, 800nm, 500nm, 200nm and 100nm).
ULTRAFILTRATION CERAMIC MEMBRANE (BTS-U, UF). Pore size ranging from 2nm up to 50nm (for industrial filtration: 50nm, 30nm, 10nm).
Membrane elements are available in different sizes starting from small laboratory equipment with membrane area of separate modules of 0.1 m² and ending with large-scale process equipment.
---
---
Equal pore sizes;
Narrow pore distribution and high porosity ratio;
Reliable and long operation in normal process conditions;
High capacity;
High chemical, pH and bacterium resistance;
High thermal and pressure resistance;
Corrrosion resistance and durability;
Strong intermolecular bindings that provide membrane structure resistance;
Possibility for membrane recovery by back flush;
Possibility for fractional sterilization by steam or chemical agents except for the chemical agents that contain active chlorine;
Possibility to filtrate highly viscous media.
---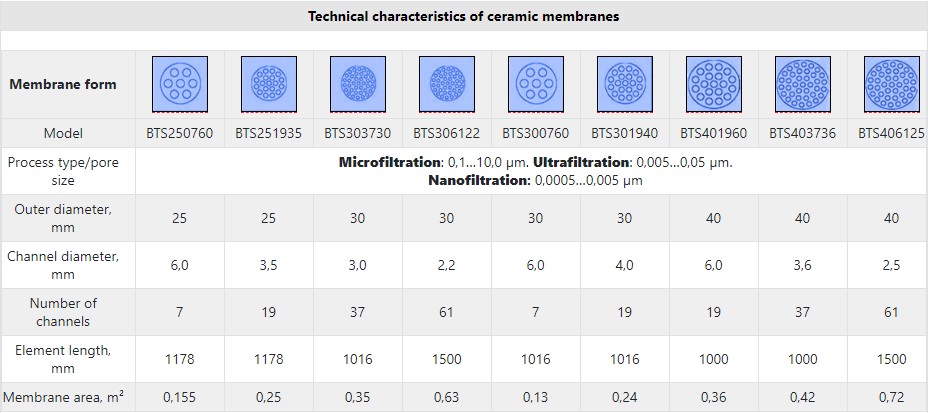 ---

---

---

Example: BTS-UF-19040-50nm – ceramic membrane element for ultrafiltration, having 19 channels with diameter of 4.0 mm and pore size of 50 nm.
---
Photos of ceramic membrane filters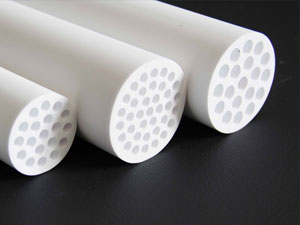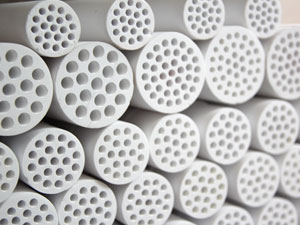 ---