Beta Ring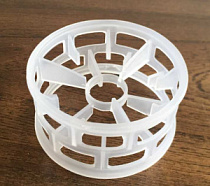 Beta Ring
Beta Ring. Inner arc tabs will increase uninterrupted flows of gas and liquid while providing additional drip points to enhance liquid firm surface renewal for improved mass and heat transfer. High Performance Random Packing was introduced, providing further improvement over the CMR packing. The strategic, patented size and placement of the slots and tabs provide an extremely effective use of packing surface area. The variation in the length of the internal tabs ensures high efficiency and optimal distribution. β-ETA RING random packing is particularly well suited for applications where low pressure drop and high liquid handling capacity is important.
Table 1: The Technical Parameter of Plastic Beta Ring
Article
Size
(mm)
Surface Area
(m2/m3)
Voidage
%
Number
(n/m3)
Bulk Density 304
(kg/m3)
1019332
63
/
/
6200
52.7
This category does not contain any products.