HD/Q Pak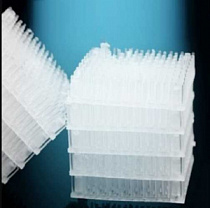 HD/Q Pak
The most distinguishing feature of Q-PACK is equilateral octagonal shape design. This design enables an extraordinarily high scrubbing efficiency while minimizing the amount of media and packing depth required. Meanwhile, evenly spaced rod design can largely eliminate clogging. Each layer vertical downward rod's distribution is not only break large droplet, but also form many gas-liquid contacting areas. It will improve separation efficiency. Therefore, it is used in wet scrubber and gas stripping tower.
Table 1: The Technical Parameter of Plastic HD/Q Pak
Article
Size
(mm)
Surface Area
(m2/m3)
Voidage
%
Number
(n/m3)
Bulk Density 304
(kg/m3)
1019346
40
612
/
/
170
1019347
305
132
/
/
120
This category does not contain any products.