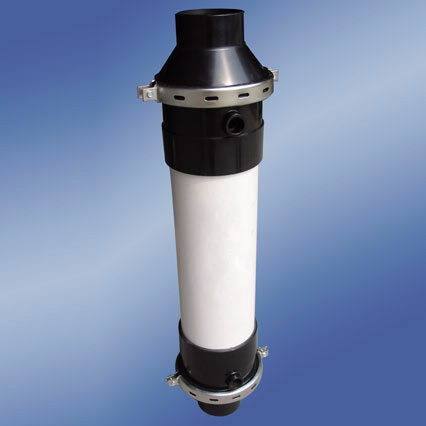 PVC membrane module
For special application, BTS-ENGINEERING company designs the module with different material, such as PVC and FRPP. BTS-ENGINEERING is one of the most professional pvc membrane manufacturers.
The module is a complete unit composed of the ceramic membranes, housing, feed inlet, concentrate outlet, and permeate outlet. The ceramic membranes are arranged in parallel and vessel with housings.
These kinds of ceramic membrane modules could be used for chemical, chlor-alkali, dyes, water supply and drainage, food, medicine, sewage treatment, electrolysis, and other industries.
OVER VIEW OF PVC MODULE
The housings are produced as required by the application. The sealing material holds elements in the weakest place in housings. A wide array of materials (EPDM, Fluoro rubber, silicon) is available by customer's needs.
FRPP pipe (glass fiber reinforced polypropylene pipe) is produced by glass fiber modified polypropylene material treated with coupling agent, corrosion resistant, high temperature resistant, high pressure resistant, hygienic and non-toxic, recyclable, suitable for industrial corrosive liquid transportation. (such as acid and alkali) and municipal water supply and drainage systems.
PVC is an abbreviation for (polyvinyl chloride), a main component of polyvinyl chloride, a material added with other ingredients to enhance its heat resistance, toughness and ductility.
CHARACTERISTICS OF PVC MODULE
Number of loading membrane elements: 1, 3, 7, 12, 19, 37, 61pcs
Matching membrane element length Diameter: 500, 1000, 1200mm / diameter: 25, 30, 40 mm
Main body material: PVC, FRPP
Sealing material: EPDM, Fluoro Rubber, Silicon, PTFE
Interface: Flange, Clamp, Whorl coupling
Pressure level: 0-1.0MPa, 0-1.6MPa, 0-2.5MPa, 0-4.0MPa
Standard: ISO, DIN / chemical grade, sanitary grade
ADVANTAGE OF PVC MODULE
Corrosion resistant, high temperature resistant, high-pressure resistant
Hygienic and non-toxic
Suitable for corrosive liquid (eg acid-base) systems
Excellent impact resistance and tensile strength
Light weight
Low cost
Easy to install and maintain