SS Membrane Module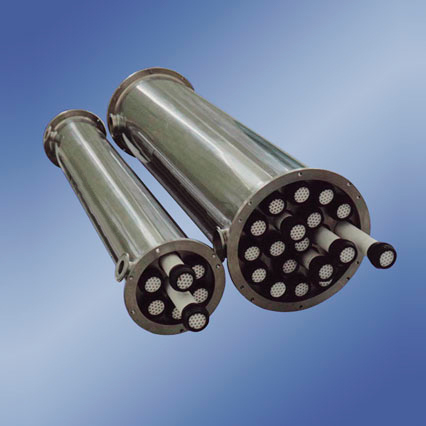 Stainless steel membrane module
The stainless steel ceramic membrane module is designed for various applications. Stainless steel can be used as the material of the module/enclosure.
BTS-ENGINEERING can produce an extra-large stainless steel membrane housing at the customer's request, for example, by loading more than 91 pieces of membranes. It can also be 1, 3, 7, 12, 19, 37, 61, 76, 91, 138, 241 membrane PC.
BRIEF OVERVIEW OF STAINLESS STEEL CERAMIC MEMBRANE HOUSING
The ceramic membrane element has a diverse narrow distribution, high porosity, and high capacity per unit surface area of the membrane.
The ceramic membrane element must be used and operated under normal operating conditions. The following operating conditions and chemicals are strictly prohibited, as this may result in the destruction or damage of the element:
Sudden pressure fluctuations;
Strong temperature fluctuations, △≤5℃ / min;
Ingress of strong acids and alkalis with high concentration and temperature for a long time, such as hydrofluoric acid, sulfuric acid, hydrochloric acid in combination with stainless steel housings, formic or acetic acid at high concentration and high temperature, silicates, acrylics, varnish, silicon soil, resins, wax;
High-viscosity filtering liquid or liquid containing large solid solid granules;
Use of pumps without soft start or frequency Converter;
Hits;
CHARACTERISTICS OF THE STAINLESS STEEL MEMBRANE HOUSING
Number of loading membrane elements: 1, 3, 7, 12, 19, 37, 61, 76, 91, 138, 241 PCs.
Suitable membrane element length diameter: 500, 1000, 1200 mm / Diameter: 25, 30, 40 mm
Main body material: SUS304 (L), SUS316 (L)
Sealing material: EPDM, fluoro-Rubber, silicon, PTFE
Interface: flange, clamp, whorl coupling
Pressure level: 0-1. 0 Mpa, 0-1. 6 Mpa, 0-2. 5 Mpa, 0-4. 0 Mpa
Standard: ISO, DIN / chemical version, sanitary version
CHARACTERISTICS OF THE STAINLESS STEEL MEMBRANE HOUSING
1. Food and drink
Sugar substitute
Wine, beer (membrane filtration)
Fruit and vegetable juices
Dairy produce
Flavorings and seasonings
Natural herbal extract
Enzymes
2. Manufacturing of Biopharmaceuticals
The fermentation broth-antibiotic treatment (including the treatment of antibiotic)
Fermentation broth-amino acid
3. Chemical and petrochemical industry
Natural rubber (fat-free latex)
Recovery of polysilicon cutting fluid
Filtration of the brine
4. Water and wastewater treatment (ceramic membranes for wastewater treatment)
Water injection fields
Waste water treatment for the paper industry
Waste water from the textile and printing industry
Water and wastewater treatment
Water treatment with titanium dioxide
Waste water from the pharmaceutical/chemical industry
Desalination/treatment of seawater
Landfill filtrate
Treatment degreasing cleaning fluid
Palm oil waste water
This category does not contain any products.