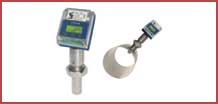 FLOMAT submersible electromagnetic flow meter is a cost-effective solution for measuring flow in large-diameter pipelines or open channels. Flow rate for liquids with better electrical conductivity than 20 mcm / cm, for example:
water purification
wastewater treatment
acid, neutral or alkaline solutions
chemical or pharmaceutical products
The electromagnetic flow meter is suitable for use at low and medium temperatures. The FLOMAT housing is made of stainless steel EN 1.4404 (SS 316L), and PVDF flow parts with Hastelloy C, Zirconia, and Titanium electrodes are available on request.
FLOMAT submersible electromagnetic flow meter consists of a sensor that generates a magnetic field in the measured liquid. Electrically conductive liquids, flowing through a magnetic field, create a voltage between the electrodes, which is proportional to the speed of the liquid. The generated voltage is processed by the electronic circuit of the microprocessor to create output signals of mA or Hz in proportion to the flow rate of the liquid.
The flow meter can be installed in any position, provided that the pipe is always filled. An alternating magnetic field for measurement prevents electrolysis. The flow meter has a low power consumption, and the readings are independent of density, temperature, viscosity, and pressure. The absence of blocking elements gives zero pressure loss and allows dry substances to pass through. FLOMAT series electromagnetic flow meter has good chemical resistance and can be installed on short straight sections of pipes (10DN/5DN).
Technical parameters:
2m3 / h...113000 m3 / h, water
For pipes of size DN40...DN2000
Accuracy: ± 3.5%
Housing: EN 1.4404 (AISI 316L) / PVDF on request
Indicator: PVDF
Electrodes: Hastelloy C, EN 1.4404, Zr., Ti, Tantalum
Outputs: 4-20 mA/0...1000 Hz, flow indicator, volume counter
HART® Protocol on request