FLOMID-electromagnetic flow meter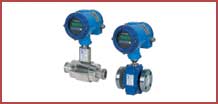 The flomid FX electromagnetic flow meter can be supplied in two versions:
- Compact - sensors and electronics form a single unit
- Separate, sensors and electronic device are separated, connected by cable
The FLOMID series flowmeter also has various options of adapters for the pipeline:
flanges according to EN 1092-1, ANSI, JIS, etc.
flanged: for flanges EN 1092-1, ANSI, JIS, etc.
sanitary. version: DIN 11851 thread, ISO 2852 Clamp, SMS 1145 thread
sanitary welding: DIN 11850, ISO 2037 standards
The electromagnetic flow meter can be mounted in any position, provided that the pipe is always filled. The flow meter has a low power consumption, and the readings are independent of density, temperature, viscosity, and pressure. The absence of blocking elements gives zero pressure loss and allows dry substances to pass through. The FLOMID series electromagnetic flow meter has no moving parts and thus eliminates the need for regular maintenance. The flow measurement is independent of the flow profile.
Technical parameters:
10l / hour...7000m3 / hour, water
D Flanges: DN3 ... DN500, others - on request
Accuracy: ± 0.5%
Housing: EN 1.4404 (AISI 316L)
Tube: PP, PVDF, Ebonite, PTFE
Electrodes: Hastelloy C, EN 1.4404, Zr, Ti, Tantalum
Outputs: 4-20 mA/0...1000 Hz, the flow indicator is a Function of the dosage amount
HART® Protocol on request
This category does not contain any products.