SC250-rotameter with metal tube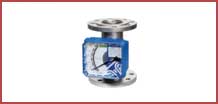 SC250 series flow meter for liquid media with a metal tube is a fully automated device made from standard parts and provides high accuracy of flow measurement.
Operating principle
The measurement system consists of a calibrated hole and a conical float. Medium flow is directed upward moves the float until it reaches the equilibrium point, which depends on:
- the weight of the float
- the strength of the flow
- the area of the flow environment
Each float position represents the area between the float and the hole. This area corresponds to the expense. The measurement principle itself is known as the variable cross-section principle.
Applications
- Water treatment plants
- Pharmaceutical, chemical and petrochemical industries
- Power plants and nuclear power plants
- Pulp and paper industry
- Food industry
- Heating and cooling circuits
- Saturated steam circulation circuits
- Furnace maintenance and gas burner management
Technical parameters
2.5 l / h ... 180 l / h, water
75 norm. / hour...5500 norm. m3 / hour, air
Accuracy: ± 2.5% f. s. (± 1.6% f. s. on request)
Suitable for all flow directions
EN 1.4404 (AISI 316L), Hastelloy C, PVC, PP, PTFE
1 or 2 limit switches
Output: 0...4-20 mA / LCD display, explosion-proof version on request
HART® Protocol on request
Counter in an aluminum case, on request – stainless steel. AISI 316L steel, PP
Explosion-proof version according to ATEX, on request
This category does not contain any products.