TIDALFLUX-electromagnetic flow meter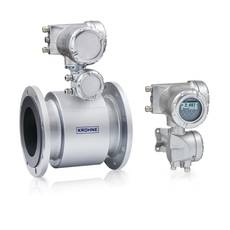 TIDALFLUX electromagnetic flow meters.
TIDALFLUX is a magneto-induction flow meter with a built-in capacitive level measurement system. It provides accurate flow measurement when the liquid level in the pipeline is from 10 to 100%.
Technical parameters:
Primary sensor IFS 4000 PF
Nominal dimensions of the device design
Nominal dimensions: DN200-1600
Protection class: IP 67, equivalent to NEMA 6 (IEC 529 / 60529)
Protected version: optional Ex N, Zone 2
Medium specification
Liquid medium: water and waste water
Electrical conductivity: > 50 µS / cm
Flow rate in the pipe: at least 10 % of the inner diameter of the pipe
Ambient temperature: -5 to + 60°C
Ambient temperature: – 25 + 60°C
Maximum operating pressure: 10 bar / 150 psig
General information about the flow measurement system
Measurement principle: flow measurement by electromagnetic field
Measurement range: when the pipe is fully filled, from 34 m3 per hour (minimum for DN200) to 100,000 m3 per hour (maximum for DN1600). Equivalent to measuring the flow rate of 0.3-12 m per second
Electrode design: 1 pair of electrodes fixed in a tube with a polished surface
Power supply for the field windings: from the signal Converter
Ground rings: as additional equipment
Overview of the built-in level measurement system
Measurement principle: capacitive level measurement, inside the coated measuring tube
Pipe filling: at least 10% of the inner diameter of the pipe, the signal at the outputs is set to "zero" when the pipe filling decreases below 10%
Power supply: voltage, frequency 230/115 V AC, 50-60 Hz, other power ratings on request; power consumption 14 VA
Materials that the device is made of
Measuring tube: structural steel 1.4301 (or more resistant material) / AISI 304
Coating: Irathane®, 12 mm
Electrodes: Hastelloy® C4, others on request
Connection flanges* structural steel 1.0038 (RST 37.2)
Converter housing* sheet steel
Electronic unit housing* aluminum
PG Nickel-plated cable entry
This category does not contain any products.