VA 40-rotameter with conical glass tube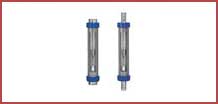 Rotameter with conical glass tube VA 40 series
The VA 40 is a rotameter with a conical glass tube designed for measuring liquids and gases. The devices are available as standard, but have different connections that meet the standards. These rotameters are installed on a vertical pipe, the liquid in which moves from bottom to top. The scale, made taking into account all the parameters of the measured medium, is located inside the measuring cone. The glass cone allows you to directly determine the flow rate.
The VA 40 cross section flow meters are designed for measuring the flow rate of liquids and gases
Technical parameters
Measuring range: for water: 0.0004...10 m3 / h, for gas: 0.016..190 m3 / h
Ambient temperature: -40...+60°C
Temperature percentage: -40...+100°C
Measurement error: 1,0
Maximum pressure: 7-10 bar
Features
Simple and cheap measurement principle: flow measurement and display of results does not require an auxiliary power supply
NEW: 4-20 mA Analog signal used for recording or controlling
Stainless steel connections (other materials are optional)
Threaded, hose, flange, and terminal connections
Process temperature -20°C to +100°C
Operating pressure-up to 7 / 10 bar (depending on DN)
Upper limit of measurement for liquids: 0.4 to 10,000 l / h (water: 20°C)
Upper limit of measurement for gases: 7 to 310,000 l / h (air: 20°C, 1.013 bar)
2 limit switches
Error of 1.0% of the measured value in ACC. with VDI/VDE 3513-2 (qG=50%)
Use in hazardous areas (ATEX)
Special design for the food and pharmaceutical industry
Version for the food and pharmaceutical industry
Smooth stainless steel surface. Parts in contact with the medium have a roughness parameter < 0.8 microns, which means that they practically do not form deposits and are easily cleaned.
Appropriate compounds and materials that meet FDA requirements for the food and pharmaceutical industry are available.
This category does not contain any products.