WATERFLUX-electromagnetic flow meter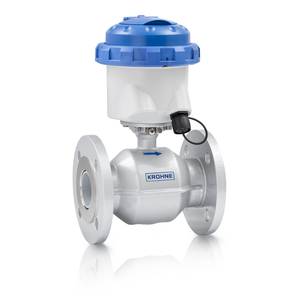 Electromagnetic flow meter for water use, water treatment and wastewater treatment with built-in battery and GSM module.
Battery powered; remote transmission of measured consumption data and service information
Easy installation; no straight sections required at the entrance and exit
The signal Converter with IP 68 protection provides the ability to work in flooded areas
Advantages
Unparalleled for measuring water flow; battery life up to 15 years
The unique design of the primary Converter, which has a rectangular cross-section of the measuring tube, allows you to measure stably and accurately even small costs
Wide range of measurements. High accuracy with maximum flow during the day and low flow at night.
It has certificates in accordance with OIML R 49 (Approved for commercial accounting) class 1 and 2, and MID Annex MI-001. Optional-confirmation by MID Annex MI-001 for water flow meters (Module B and D)
No straight sections are required during installation - for example, after bending (mid / OIML R49 certificates)
Installation in any direction
Measurement in two directions
Installation of submersible in flooded measurement chambers (IP 68 / NEMA 6P)
Special coating for installation on underground pipelines (IP68): cameras are not required for maintenance
Rilsan ® polymer coating is widely used in the field of water use and is certified for use on drinking water in accordance with the requirements of ACS, DVGW, KTW, NSF and WRc. Thanks to the new virtual grounding, there is no need for grounding electrodes and expensive grounding rings anymore
High reliability and maintenance-free. Does not require additional maintenance; does not have rotating or moving parts; Does not have parts that enter the flow, does not have parts that are subject to contamination.
Optionally it can be used in conjunction with the KGA 42 data transfer module for transmitting data over GSM to remote devices for analysis and archiving
Application
Scope of water use
Distribution and accounting of drinking water
Irrigation system
Measuring the flow of raw water, drinking water and water for irrigation systems, water from wells
Monitoring of water distribution in the water supply network
Leak monitoring system
Measurement of water consumption
Commercial accounting of industrial and drinking water
Desalination plant
Example of application
Measurement of raw water, drinking water, and irrigation water consumption
Measurement of water from wells
For testing wells and pumps
Monitoring of water distribution in the water supply network
Leak monitoring system
Measurement of water consumption
Monitoring of water consumption in distributed water supply systems
This category does not contain any products.